Nutcracker
December 15-17, 2017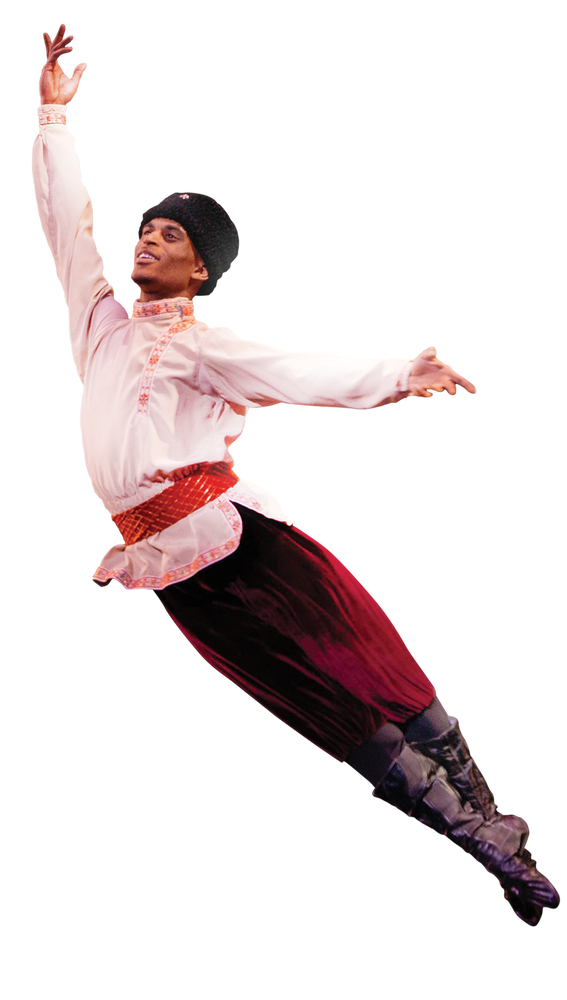 Everyone's holiday must-see featuring the Memphis Symphony Orchestra.
A joyful celebration of worldly cultures, youthful imagination and the overwhelming awe of more than 100 dancers, both professional and children from around the city, are a part of this one-of-a-kind experience. Poised in the beautiful Orpheum Theatre, the transforming sets let the magic unfold before your eyes—from an exquisite party with life-size dancing dolls and a battle with life-size mice and toy soldiers, to sparkling falling snowflakes in the Land of Snow and the dazzling and colorful Kingdom of Sweets. And as Sugar Plum, Dew Drop, the Russians and Arabians, Mother Ginger and many more favorites bring to life, with the Memphis Symphony, Tchaikovsky's luscious music, everyone will know what a true holiday gift Nutcracker can be.
Details
Friday Night/Saturday Matinee Leads
Clara —  Alexis Hedge
Nutcracker —  Jared Brunson
Sugar Plum — Crystal Brothers
Cavalier — Rafael Ferreras
Dew Drop Fairy — Cecily Khuner
Saturday Night/Sunday Matinee Leads
Clara —  Felecia Baker
Nutcracker —  Ryan Preciado
Sugar Plum — Virginia Pilgrim Ramey
Cavalier — Brandon Ramey
Dew Drop Fairy — Eileen Frazer
See full cast list (professionals and children) for all performances here
ACT ONE 
Scene I: CHRISTMAS EVE AT THE STAHLBAUM HOUSE Choreography by Janet Parke 
The Stahlbaum children, Clara and Fritz, wait for guests to arrive at their family's Christmas Eve party. Herr Drosselmeier, Clara's godfather, brings gifts for all the children and a special Nutcracker doll for Clara. Jealous, Fritz grabs the toy from Clara and breaks it. Drosselmeier ties his handkerchief around the broken doll and promises to fix it. After the guests leave, Clara places the doll in the parlor and goes to bed. 
Scene 2: THE BATTLE Choreography by Steven McMahon 
During the night, Clara checks on her beloved Nutcracker. In the darkness she sees giant mice. Drosselmeier appears and the mice scatter. He changes the Nutcracker into a life-size doll. The room grows, dwarfing Clara. The mice return and a battle ensues. Unable to vanquish the mice alone, the Nutcracker enlists the aid of the toy soldiers. When the Mouse King arrives, the battle seems lost, but Clara diverts his attention and the Nutcracker slays him. 
Scene 3: THE LAND OF SNOW Choreography by Steven McMahon 
After the battle, the victorious Nutcracker becomes a handsome prince who takes Clara on a fantastic journey. They first pass through a snow-laden forest, where the two dance among the snowflakes. 
ACT TWO 
THE KINGDOM OF SWEETS Choreography by Joseph Jefferies 
Upon arriving in the Kingdom of Sweets, Clara and the Nutcracker Prince meet the Sugar Plum Fairy, and dancers from Spain, Arabia and China perform in Clara's honor. The Mirlitons frolic with their lambs and a trio of Russians provide lively entertainment. Mother Ginger introduces her Polichinelles, followed by the Dew Drop Fairy and her Flowers. Then the Sugar Plum Fairy and her Cavalier dance before the entire group returns to bid farewell to Clara.
David Heuvel (Costume Associate) is the costume production director for Ballet West and has been associated with that company since 1979. He originally joined Ballet West at the request of then-Artistic Director Bruce Marks. Previously, he was chief costumer for Ballet at P.A.C.T. in South Africa. David also has designed and built costumes for many ballet companies, both nationally and internationally, including Ballet Du Nord, Universal Ballet, Singapore Ballet, Carolina Ballet, Washington Ballet, American Repertory Ballet, Atlanta Ballet, Nashville Ballet and Ballet Memphis. Other designs for Ballet Memphis include Scheherazade, Paquita, Pas de Dix, and Napoli. 
Joseph Jeffries (Choreographer) said farewell to Ballet Memphis as a dancer at the end of the 2005–2006 season to join Les Ballets Trockadero de Monte Carlo. While with Ballet Memphis, he performed a wide range of roles including Prince Siegfried in Swan Lake, Albrecht in Giselle, Jerry Lee Lewis in Lila York's Breathless, as well as lead roles in Trey McIntyre's The Naughty Boy and Grace, and Robert Battle's Facing. Joseph also choreographed numerous ballets for Ballet Memphis such as The Little Mermaid and Beauty and the Beast. He also has choreographed for Miami City Ballet's workshop performance, Peoria Ballet and Ballet Yuma. Joseph was selected to present his ballet, Cupid Revealed, during Ballet Builders 2006 in New York. Ballet Builders is a highly competitive showcase presented by New Choreographers on Point, an organization that seeks to foster emerging ballet choreographic talent. Joseph also danced with Ballet Arizona and Pittsburgh Ballet Theatre. He is now a faculty member at Boston Ballet School and continues to freelance as a choreographer around the globe. 
Benjamin Makino (Conductor) is equally at home in the opera house and on the concert stage. He served as music director of Opera Memphis from 2013-17. Prior to that, he was the assistant conductor at the Long Beach Opera, during which time he assisted on productions of The Cunning Little Vixen, Nixon in China, Akhanten, and the U.S. premiere of Vivaldi's Motezuma; he also conducted productions of David Lang's The Difficulty of Crossing a Field, Michael Gordon's Van Gogh, Ernest Bloch's Macbeth, and the U.S. premieres of Gavin Byars' The Paper Nautilus and Stewart Copeland's The Tell-Tale Heart. In Memphis, he has appeared with the Memphis Symphony Orchestra, Ballet Memphis, New Ballet Ensemble and School, the Memphis Youth Symphony Orchestra, Blue Shift Ensemble, and the Memphis Chamber Music Society. He is from Southern California and educated there as well as in Siena, Italy. He has served on the faculty of the music department of the University of California, Irvine, and was a guest lecturer for Stanford in Washington program in Washington, D.C. 
Steven McMahon (Choreographer) joined Ballet Memphis in 2001 as a dancer and has created more than a dozen ballets for Ballet Memphis, including his first full-length ballet, Wizard of Oz as well as Soul Selects Her Own Society, Confluence, The Royal We and Peter Pan. His other new ballets for Ballet Memphis include Carnival of the Animals, Romeo and Juliet and Cinderella. Steven also has choreographed many original works including The Lovely Story of Us, which was performed in Helsinki, Finland, at the International Ballet Competition, and two of his works, Being Here With Other People and Confluence, have been performed at the Spring to Dance Festival in St. Louis. His works also have been performed at Organizacion Para La Artes in Guatemala and at other venues around the nation. His first ballet, What Your Soul Sings, premiered at Ballet Memphis' Interiorworks. He is a 2016 National Arts Strategies Senior Management Institute fellow as well as a fellow in the 2016 Salzburg Global Forum for Young Cultural Innovators in Salzburg, Austria. Steven, who is originally from Glasgow, Scotland, joined the Company after completing his training at The Ailey School in New York City. He retired last season from the stage and is now the Company's Associate Artistic Director.  
Jack Mehler (Lighting Designer) received the 2012 Korean Musical Theatre Award (aka the Korean Tony award) for Elisabeth and the 2013 award for Rebecca. Ballet Memphis designs include Nutcracker and several mixed-repertory programs: AbunDANCE (2009-12), River Project (2012), and World Wonders (2014). Other dance work includes Joffrey Ballet, San Francisco Ballet, Alvin Ailey American Dance Theatre, Lar Lubovitch Dance, Donald Byrd/Spectrum Dance, Buglisi Dance Theatre, BalletMet, and many others. Theatre work includes North Shore Music Theatre (three IRNE nominations), Walnut Street Theatre, Riverside Theatre, Paper Mill Playhouse, Cleveland Play House, Seattle Repc, and the WPA Theatre, among many others. He also provides design coordination/owner's representation for arts organizations that are building or renovating performance and rehearsal facilities. 
Janet Parke (Choreographer, School Principal and Youth Ballet Memphis Director) is now in her 34th season with Ballet Memphis. Parke trained at the Fort Wayne Ballet Academy, Texas Christian University and the Atlantic Foundation for the Performing Arts in Fort Lauderdale, Florida, under the direction of Ruth C. Petrinovic and Brenda Gooden. She has taught all levels of ballet school at the Atlantic Foundation for the Performing Arts, the Fort Wayne Ballet Academy, Rhodes College, St. Mary's Episcopal School and Ballet Memphis. She also has published To The Pointe, a guide to the fitting, care and wear of pointe shoes. Parke has choreographed more than a dozen ballets for Ballet Memphis including Coppélia, A Midsummer Night's Dream, Nutcracker and Starlight. In addition to serving as school principal and teaching in the Ballet Memphis School, Janet directs and choreographs for Youth Ballet Memphis.
Orchestra: Memphis Symphony Orchestra / Robert Woody, Principal Conductor 
Director Production: Allan Kerr 
Stage Manager/Production Coordinator: Kristen Fisher 
Technical Director: Robert New 
Master Electrician: Dani Deutschmann 
Assistant Lighting Designer: Jeremy Allen Fisher 
Wardrobe Supervisor: Bruce Bui 
Wardrobe Assistant: Gabriela Moros 
Dressers: IATSE Local #825 
Stagehands: IATSE Local #69