New American Dance Residency
an immersive experience in creating thematic new work
The Ballet Memphis New American Dance Residency aims to train and mentor dance makers on the power of creating thematic, research-based work. Through an immersive Memphis-centric dance residency, historically underrepresented dance artists with a strong curiosity for disrupting the status quo of traditional dance would spend two weeks exploring the unique aspects of Memphis' historical, political and cultural global reach in conjunction with Ballet Memphis' method of creating art that impacts communities through a lens of compassion, beauty and equity.
2018-19 Residency Schedule
Application period opens October 1, 2018
Deadline for submissions December 10, 2018
Notice of selection to participate February 11, 2019
Residency in Memphis April 15-26, 2019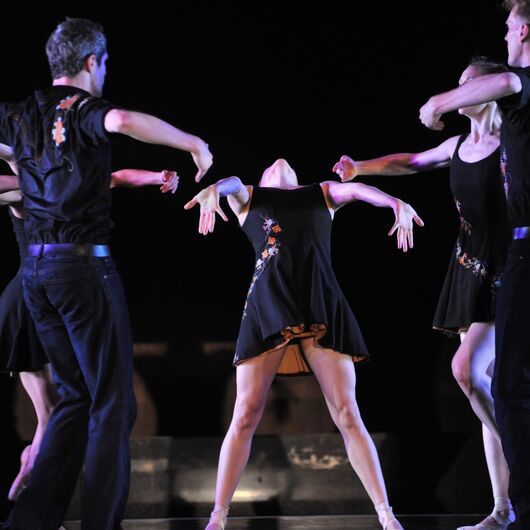 How is the Ballet Memphis approach different?
Ballet Memphis' choreographic process uniquely calls on a commitment to deep research, sharing of ideas and harnessing the electric richness of Memphis history and culture through dance. New American dance must tell American stories as they are happening now, while also pushing the current narrative forward. We believe that while dance is significant in its own right, when applied to the microcosm of the everyday American story, it has the power to transcend our individual stage and dance artists to become a narrative that celebrates our humanity with conscientious thought and creativity. We believe the New American Dance residency will be a game-changer in our industry. Ballet Memphis looks to build capacity for a creative space that feels supportive and removes the consequences of failure, while also focusing on the question of for whom art is created.
The New American Dance Residency seeks to recruit a maximum of 4 dance makers—2 local and 2 non-local. This balance of perspective is essential to creating an environment of true creative collaboration. For non-local artists, there is a unique opportunity to experience firsthand the cultural richness of Memphis beyond the tourist-centric narrative of Elvis, BBQ and the Blues. Local dance makers would gain exposure to national artists with similar creative impulses but perhaps a completely different cultural perspective.
We will give preference to applicants traditionally under-represented in dance due to factors of race, gender, career experience and access to resources. The application process would include submission of: dance and/or teaching resumes, work samples (clips and full-length), 3 professional references, and a video or in-person interview with Ballet Memphis. The most significant piece of the submission would be a personal statement around the following prompt: "How would participation in the Ballet Memphis New American Dance Residency advance the way you conceive and create dance? Tell us how ballet can contribute to civic progress and reflect the stories of diverse audiences."
Led by Ballet Memphis administrative and artistic staff, the selection committee would include but not be limited to established national thought partners deeply committed to the work of representation in dance and ballet culture; local organizations who could offer a fully formed perspective of arts and culture in our region; and former Ballet Memphis choreographers.
how will the residency be structured?
A proposed day of the residency would be comprised of two sessions beginning with a morning seminar focused on selected readings, discussions and site visits to local institutions including but not limited to the National Civil Rights Museum, Memphis Brooks Museum of Art, Slave Haven, Memphis Rock'N'Soul Museum, Rhodes College, and the University of Memphis. Throughout these learning sessions, dance artists would be exposed to the significant contributions of Memphis and our region to the global community. They would be challenged to deeply engage with regional experts in fields like Memphis music history, southern literature, and civil rights and social justice.
The remainder of the day would be dedicated time for personal and creative reflection from the morning session. Participants would be asked to document their experience in Memphis through journaling, blogging or short videos. Throughout the residency, dance artists would work with small groups of Ballet Memphis artists to create choreographic "studies" concluding with a presentation and informal public showing at Ballet Memphis at the conclusion of their two weeks.