Season Opener
September 8-9, 2018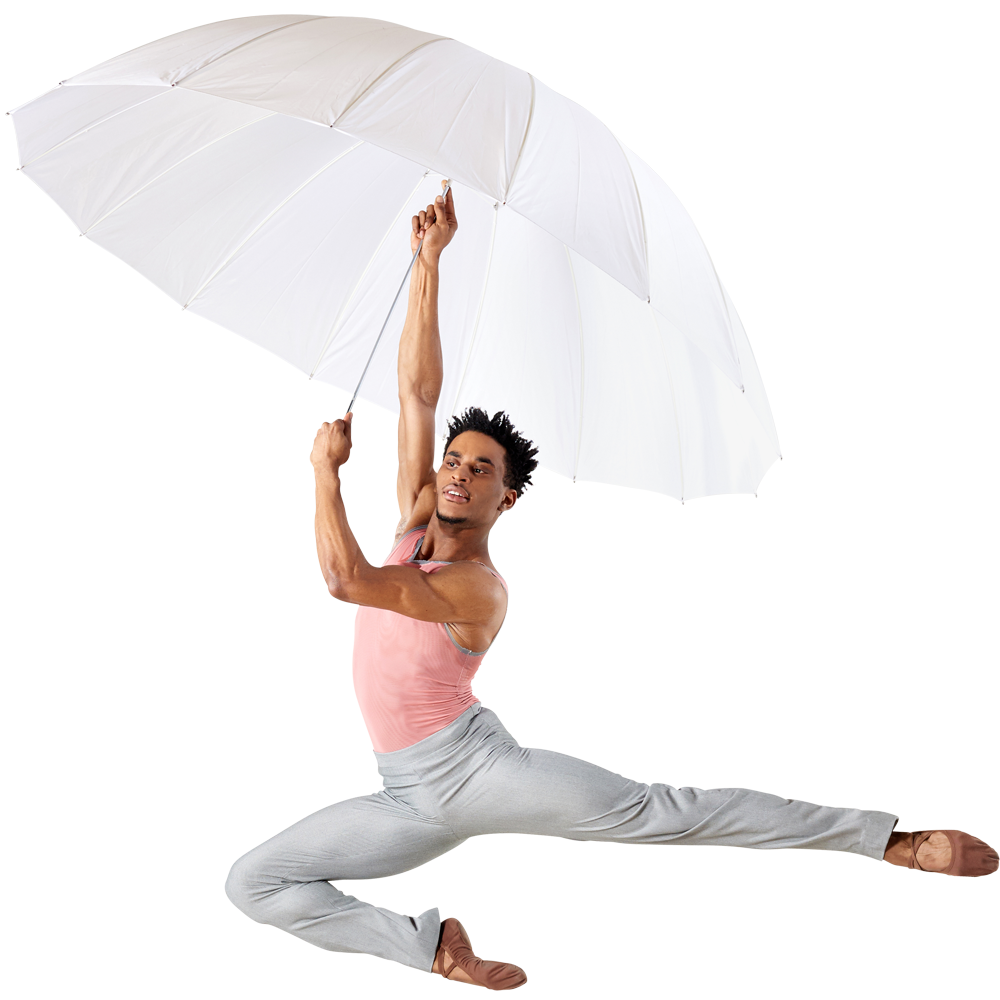 Celebrating over 30 years of creating a place of welcome, curiosity and delight.
We love our city and the love it gives us back. It's why we created a new place that everyone can call their own, and this weekend, we celebrate that sense of "Shelter" that we strive to provide to all. Featuring Julia Adam's Devil's Fruit with its beautiful botanical projections on giant umbrellas, and Uri Sands' Salve that brings people together in hope from adversity. Plus a new work from Ballet Master Brian McSween entitled Indwelling that beautifully explores the inherent desire in us all for physical, emotional and eternal shelter. Evening show just $25, matinee just $15, and all available with free parking on a Season Pass. This show is appropriate for all ages and is general admission.
PERFORMANCES
Saturday, September 8 at 7:30p (plus free spark! at 6:30p)
Sunday, September 9 at 2p
Details
URI SANDS is co-founder and co-artistic director of TU Dance, founded in 2004. Uri Sands' choreography has received national recognition for the fusion of classical elegance with edgy contemporary action, for pulsating intensity with poetic lyricism. A principal dancer with Alvin Ailey American Dance Theater for five years, he also danced with Philadanco, Miami's Fredrick Bratcher Contemporary Dance Theater, Minnesota Dance Theatre, James Sewell Ballet, as guest artist with Complexions under the direction of Dwight Rhoden and Desmond Richardson, and as a principal dancer with North Carolina Dance Theatre. His recent choreographic commissions include, among others, Zenon Dance, Vocalessence, North Carolina Dance Theater, and Alvin Ailey American Dance Theater. In addition to several film and television credits, Uri has taught dance and performed extensively throughout the United States and Europe. He was awarded a 2004 McKnight Artist Fellowship and a 2005 Princess Grace Award in choreography. He has received numerous awards, was named one of ten "Artists of the Year" by City Pages in 2011 and 2003, recognized as one of "25 choreographer to watch" in Dance Magazine (January 2005), and he and Toni Pierce-Sands were named "Artists of the Year" by the Star Tribune in 2005. Their company TU Dance received the Sage Cowles Best Performance Award in 2005, 2007, 2010 and 2012. As a choreographer, he and the Ordway Center in Saint Paul won the 2009 Joyce Award for dance, and in the same year received support from the Americans for the Arts' Professional Development Fund for Emerging Arts Leaders of Color. He is a recipient of a 2011 McKnight Foundation Fellowship in Choreography.

Julia Adam hails from Ottawa, Ontario. At age 13, she entered the National Ballet School in Toronto and, upon graduation in 1983, spent five years with the National Ballet of Canada. She joined the San Francisco Ballet in 1988, becoming a principal dancer in 1996. Among the choreographers that created works for her are Helgi Tomasson, Mark Morris, William Forsythe, James Kudelka and Nacho Duato. In 2002, Julia retired from dancing and quickly gained recognition as one of the dance world's rising talents in choreography. Since 1996, Julia has been commissioned to create more than 70 works for San Francisco Ballet, Joffrey Ballet, Houston Ballet, Oregon Ballet Theater, Nashville Ballet, Atlanta Ballet and more. She has created and set more than 10 works on Ballet Memphis. Julia has been featured in Dance Magazine, and she received the Isadora Duncan Award for Choreography. She currently resides in the Bay Area and is the Artist in Residence at Marin Ballet and Co- Founder/Artistic Director of Julia Adam Dance.
Brian McSween began his career in Charlotte, N.C. where he was born and raised. Before joining Ballet Memphis as Ballet Master, he was Associate Artistic Director with the Joffrey Concert Group as well as a guest teacher with the Grand Rapids (Mich.) Ballet under Artistic Director Patricia Barker, and was an adjunct professor of dance at Grand Valley State University (Mich.). He was an artist with the Joffrey Ballet for 10 years in a variety of roles including the Stepsister in Sir Frederick Ashton's Cinderella, Twyla Tharp's Deuce Coupe, the Snow King and Drosselmeyer in Robert Joffrey's The Nutcracker, and Tybalt in John Cranko's Romeo and Juliet, among many others. He also has worked with Complexions, Aspen Santa Fe Ballet, and American Ballet Theatre. Brian has taught, judged and choreographed nationally and internationally, and he can be seen in the movies "Save The Last Dance" and Robert Altman's "The Company." His first choreographed work for Ballet Memphis, Pushin' the Stone, premiered as part of the Company's "Pairings" event in 2016. He created "American Circus" for the 2017-18 season.
SALVE
Choreographer
Uri Sands
Assistant to Choreographer
Elayna Waxse
Music
Tramp With Orchestra I (String Quartet), Gavin Bryars JESUS' BLOOD NEVER FAILED ME YET used by arrangement with European American Music Distributors Corp, sole US and Canadian agent for Schott Music Ltd., London, publisher and copyright owner.
Lighting Designer
Jack Mehler
Choreographer's Notes
"I wanted to explore the idea of hope, the idea of faith, the idea of healing, so the work begins with a solemn feeling. And we then just explored that; how do we go from nothing, physically, to everything. It's really about the connectivity of being human and how we come together during adversity to heal or get beyond those things that are challenging for us."
DEVIL'S FRUIT
Choreographer
Julia Adam
Premiere
2013 as part of the River Project series
Costume Designer
Christine Darch
Lighting Designer
Christopher S. Chambers
Visual Artist
Stephanie Cosby
Music
"Vivaldi, The Four Seasons: Spring 1 & Spring 2 & Summer 2" by Max Richter from Recomposed by Max Richter: Vivaldi, The Four Seasons, "Islands" by Philip Glass from Glassworks-Expanded Edition, "The Four Seasons Concerto in F Minor, RV 297 Winter: Il Largo" by Red Priest from The Four Seasons
Choreographer's Note
"I approached this work as a tripartite positioning of the mushroom: the science, the pagan mythology and the mind-altering power of the mushroom to initiate one into the mysteries of the divine. I am overwhelmed and amazed by the beauty and power of the fungi kingdom."
INDWELLING
Choreographer Brain McSween
Costume Designer Bruce Bui
Lighting Designer Sheric Hull
Music Aaron Stempel, Ali Akbar Moradi, Gil Scott-Heron, City of London Sinfonia, New Bethel.
Choreographer's Note "This is a look at the inherent desire of mankind for physical, emotional and eternal shelter. The immediate, the long-term and the everlasting, and how in each of these three community plays a role."